Search the catalog by Name or Title. For search form details and hints (e.g., how to find works with anonymous authors), scroll down. Or, Browse the catalog pages. To access and search every word in the catalog as well as person records made by editors to contextualize the names in the catalog, download the TEI file.
Hints for Searching Names and Titles in the Catalog
Both the Names and Titles searches retrieve names and titles exactly as Stainforth wrote them in his catalog, including punctuation, typos, nicknames, abbreviations, and other variations. When in doubt, search on the smallest possible term and add * (the wildcard sign) to the end of it to see the most comprehensive list of results. For a list of common abbreviations used in the catalog, see the About page.
To search for letter accented in the manuscript, type the letter into the search form as-is without the accent.
To perform a keyword search for a topic, use the Title search and enter [keyword]*. It will return titles with the topic mentioned in them.
There are 2 search settings: Match All terms (default) and Match Any term. Match All will show results only where all terms appear in the catalog; it is picky. Match Any term is less picky, and it will return results that match each individual term in your search. When in Match All, search for "Roberts (Emma)", or simply "Roberts" or "Emma". NOT "Roberts, Emma" or "Emma Roberts".
To find works published anonymously: Match All, use the Title search, with Keywords: "by a lady"; or "anon".
Search does not automatically return married and maiden names in search results, unless you search on both names and select "Match Any." For example, searching on "Hemans" would not automatically show results for "Browne" (maiden name). To get results with both names, search Names, "Match Any", with keywords "Browne Hemans".
Stainforth occasionally spells a name wrong, which makes a person harder to search for. (We believe he would be sorry.) If you suspect this, search on just the first name or browse the catalog instead of searching in the form.
Name search does not (yet) search Person records. This feature is planned for our next phase.
To find Person records: Search for: [Name], then look for the gold circle icon beside the name in the results list (see below for example). Click on the icon to view Person data. If there is no gold icon beside a name, there is no Person record published at this time.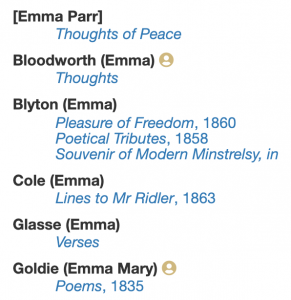 What is not yet searchable in this search form (pardon our progress): 
Person records
Cross references in the manuscript
Text in the catalog that is not part of an entry, such as the subheading "Wants"
Shelfmarks
Accented characters as such. To find a manuscript entry with an accented character, enter search terms typed without the accent.
Hint: If you download our data in TEI P5, you can search for these elements in the file.