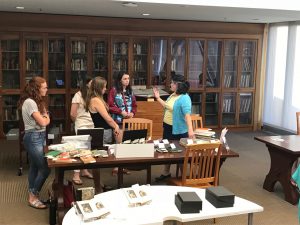 The Stainforth Library of Women's Writing and its digital library catalog are flexible and multidisciplinary pedagogical resources. They lend themselves to teaching diverse topics, including literary history from the sixteenth century through the Victorian period, women's literature, women writers, book history and bibliography, print history, manuscript studies, library history, provenance, the canon and recovery, transatlantic literary studies, slavery and abolition, music, religion, colonialism, the domestic, cosmopolitanism, women and science, poetry, drama, life writing, digital humanities, and more.
Here, we link to lesson plans and assignments for instructors to borrow and adapt/revise. This list will continue to grow. Feel free to submit your own lessons or assignments to add to the list, and we will be sure to cite you for your contribution.
Exercise: Advanced Search – 10-minute exercise designed for "Resistance in the Spirit of Romanticism Conference" presentation
Comparing Library Catalogs – Follow a series of steps to compare the Stainforth library catalog to other kinds of library catalogs, historical and of the present day. The goal is to have students learn that library catalogs are the products of the social, political, and technological forces that define culture. They are constructed from different perspectives and organize knowledge through a particular lens depending on mission and scope.
Provenance – This lesson teaches students what provenance is and why it is important, and it provides examples of exercises that continue the exploration of this topic.
Hard Copies: Where Are They Now? – This assignment helps students discover and think about the relationship between an existing hardcopy of a book, accessible digital editions, and its record in library catalogs. They identify a book in the Stainforth library catalog, locate the book in Worldcat.org, request the book, and consider what a hard copy of a book can reveal that digital editions and/or metadata in a catalog entry cannot.
Name Authorities Assignment – This assignment asks students to use what they know about Name Authorities to learn more about these records and their importance by searching Library of Congress Authorities, VIAF.org, comparing different records, and thinking critically about those differences. The assignment includes a link to an introductory lesson on Name Authorities.
Research Paper Assignment: Recovering Women's Writing from the Long 18c with the Stainforth Library Catalog – Students select a text from the Stainforth library catalog that is understudied, and they write an essay that primarily uses close reading to make a claim about the text.