On Thursday June 6th, two of my students presented work in our end-of-year DH student showcase. The showcase took place in Archives and Special Collections, and it was organized by Amy Lueck (English), Michelle Burnham (English), and Nadia Nasr (SCU Library). It was the 3rd annual showcase of its kind, and Michelle reports that each year it has grown considerably with an increasingly diverse array of digital work and participating classes.
It is especially gratifying for me to showcase these students' scholarship as valuable and significant recovery scholarship produced by undergraduates on women writers in the Stainforth Library of Women's Writing.
Danna D'Esopo ('20) presented her work creating and editing person data for The Stainforth Library of Women's Writing. She has been my research assistant since Fall 2018 and will continue next year. This year she created/edited 96 person records and linked 125 name records. She researched 350+ cross references and found 20+ books owned by Stainforth in libraries around the world to add to our map. She also creates and updates editorial guidelines for person data and names, finds and reports data and transcription errors, and helps design new elements for the public interface.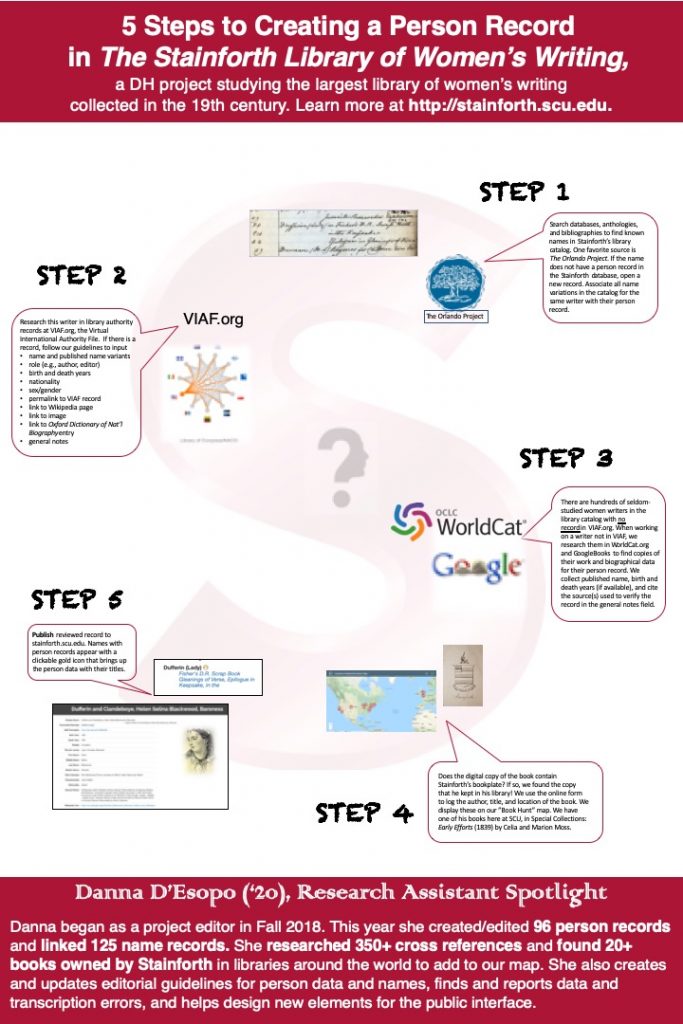 To attract visitors to our booth and to illustrate our data rather than show data points alone, Danna and I joined forces to make a poster and a game with prizes (chocolate, of course). The poster is an infographic that depicts a series of steps Danna performs in order to create a new person record in the Stainforth database. The steps illustrate a very complex process Stainforth editors developed that requires discipline-specific knowledge, research skills, and critical thinking. In the poster, they are a simplified and very condensed version of our editorial guidelines and make the process easier to describe and envision. The game complements the infographic by inviting visitors to interact with our data. Danna generated 20 questions about data in the Stainforth library catalog that is accessible from our website and printed them on small cards. Visitors picked a card and tried to answer the question. Questions asked one to search the Stainforth database online at www.stainforth.scu.edu to discover, for example, authors' pseudonyms and death years, and cross-reference page and line numbers. Danna even designed a bonus question that asked visitors to figure out which Stainforth book Santa Clara University owns.
Leah Senatro ('19) presented a digital essay, "Writing Outside the Box: Mary Knowles' Abolitionist Inscription on a 1788 Tobacco Box," which utilizes an interactive, digital frame to engage the reader with the text and introduce them to the historical time period with visuals and written text combined. She wrote the essay for her final project in my ENG 144G this Winter, Long 18th-Century British Women's Writing.
Leah created the essay by sketching the tobacco box on her iPad using the Procreate app, then saved that as an image file. She used Google Slides to create a succession of pages and prompts that set the scene for encountering the tobacco box in the eighteenth century at a gathering, and then she embedded those slides in WordPress.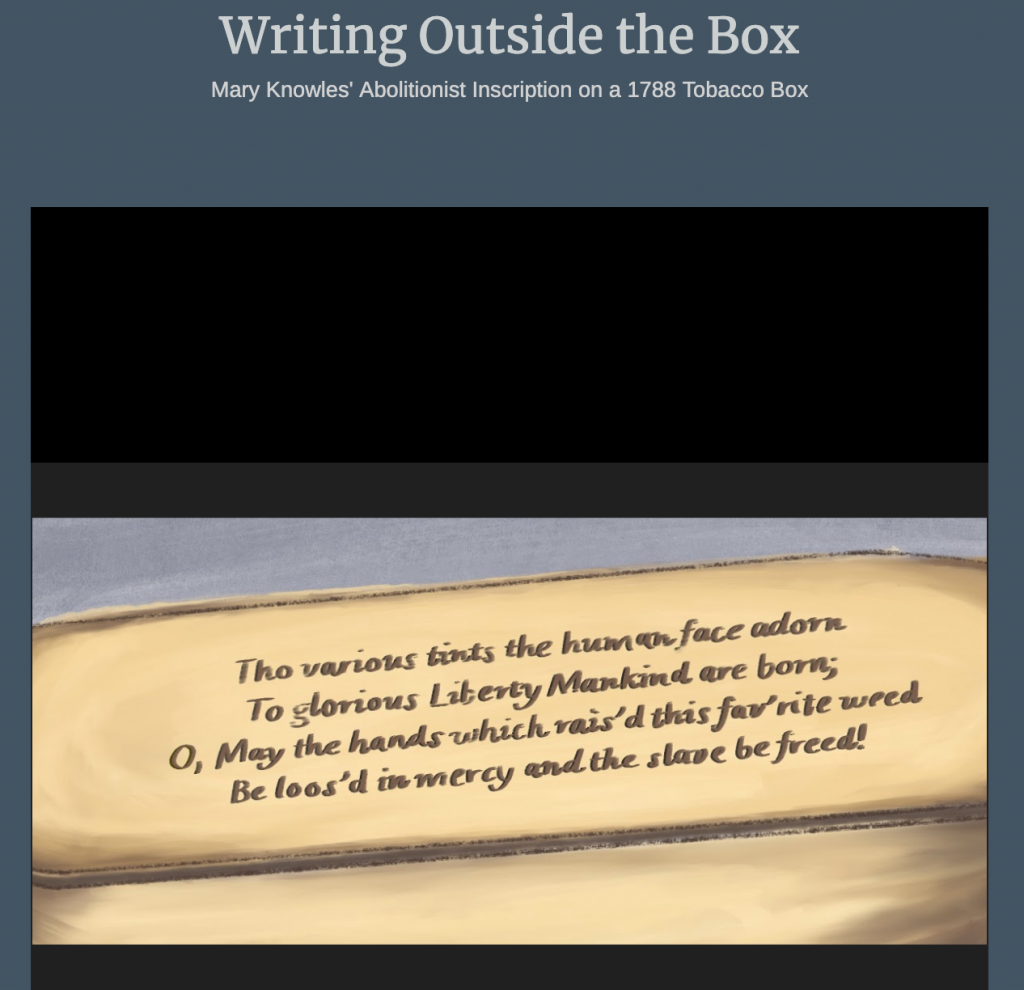 Here is the opening paragraph of Leah's essay. I encourage you to read the full piece here: https://writingoutsidetheboxeng144.wordpress.com/%20open-the-box/
Tho various tints the human face adorn

To glorious Liberty Mankind are born;

O, May the hands which rais'd this fav'rite weed

Be loos'd in mercy and the slave be freed! (Jennings, "Speak Out" 77)

These abolitionist verses, written by Mary Knowles for the inscription on a tobacco box in June of 1788, become immediately known to any user of the box.  The verses not only use complex poetic devices to condemn slavery, their location on the tobacco box establishes Knowles' position as one of power as she sets herself a stage to simultaneously advocate for the liberty of Africans and establish her own personal liberty as a woman in 18th century England.  Analyzing the ways the verses build their argument through poetic devices – including rhyme, personification, metonymy and inverted syntax – and establish power through their placement on the lid of the tobacco box, allows scholars both to investigate how the verses themselves function as abolitionist texts and actively recover the works and achievements of Mary Knowles as a woman writer of the long 18th Century that, like so many, has been largely left out of literary conversations.